24 Hour Passport Service
Why Choose Passport Visas Express?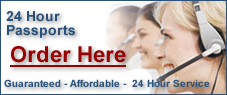 We are a privately owned and operated expediting company dedicated to providing superb customer service and personal attention to your Passport and Visa expediting needs. For more than a decade, we've been trusted partners of individuals and businesses and have handled thousands of travelers' vital documents with speed and care. Let us help get you there!
How We Help
Professional, reliable, and expert customer service
Affordable processing options to fit your budget
Guaranteed accuracy, security, and privacy of your documents
No need to stand in line, we do the waiting for you
PassportVisasExpress.com is the industry leader of online Passports and Visas expediting services, Simple to follow, step-by-step passport and visa application instructions, exceptional customer service, and expert attention to detail will ensure your documents are processed accurately and on-time to get you on your way.
Our Service
Do It Yourself
Expert Customer Support
No Customer Support
Live Online Chat
No Online Chat
24 Hour Processing
4 to 8 Weeks Processing
Guaranteed Service
No Guarantee